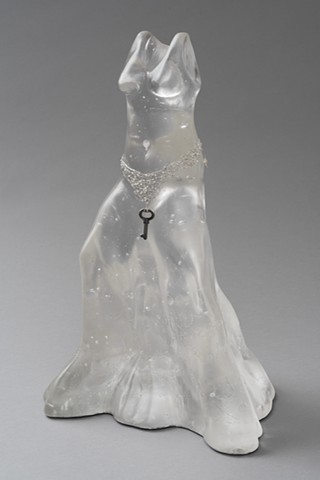 Trained as a graphic designer and illustrator, I used my artistic skills to represent the voices of others for over 20 years. For the past dozen years, I've made Figureless Garments exploring female roles and Domestic Feminism, with an emphasis on the human presence that is left behind in inanimate objects; a worn slipper, a dress, a chair, a bed.
In my work, I strive to create art that address life and the human experience of everyday interactions and relationships. The form is a ghost left behind to tell a story addressing social constructs, human emotion, and our precarious selves in relationship to one another.
When expressing myself, I try to access my intuitive and authentic voice. I invent stories based upon personal observations and incorporate these experiences into my work. I try to allow the piece to evolve into its own unique form. When possible, I prefer to use recycled or discarded materials and work to transform the materials into new narrative structures. By using recycled materials, each piece bares homage to a previous incarnation and often greatly informs the direction of new work.
My sculptures are meant to be stepped into and explored, giving the viewer a chance to create their own narrative.
Visit me on the Artist's Registry at
New Mexico State Committee
National Museum
of Women
In the Arts
newmexicowomeninthearts.org/linda-mae-t…
Instagram
|MsLindaMaeArt|
"Under the Influence" was the theme for the call that prompted me to make this piece about what influences my art practice. 18 women artists names adorn this Artemis sculpture, between the inverted breasts featured along the bottom of the dress.
I wanted to honor women artists that have paved the way for me to become the artist that I am today. The names of early artists whose work I loved such as Berthe Morisot and Mary Cassatt. Modern and feminist artist such as Louise Bourgeois, Cindy Sherman, Barbar Kurger, and Judy Chicago. Artist mentor Constance DeJong who strongly encouraged me to create this body of work and the late Lydia Madrid's names are here. My contemporary artist and dear friend whose work is in dialogue with my own—Stephanie Lerma. My own signature is written among the names. I hope to encourage and inspire young women artists to continue to create and break ground.
The key is from my own girlhood diary, which was full of a girls inspirations for her future.
Sterling Sliver wire is knotted back upon itself creating a filigree-like belt gathering the pearls.
Pearl's are a semi-precious stone built up by multiple layers of shell material around an irritant. It is a symbol of perfection, long life, and fertility. Because a pearl is created within a mollusk shell, it represents hidden knowledge—which for me means trusting and listening to one's intuition.
Photo by Margot Geist